Who was Rosalie Rendu ?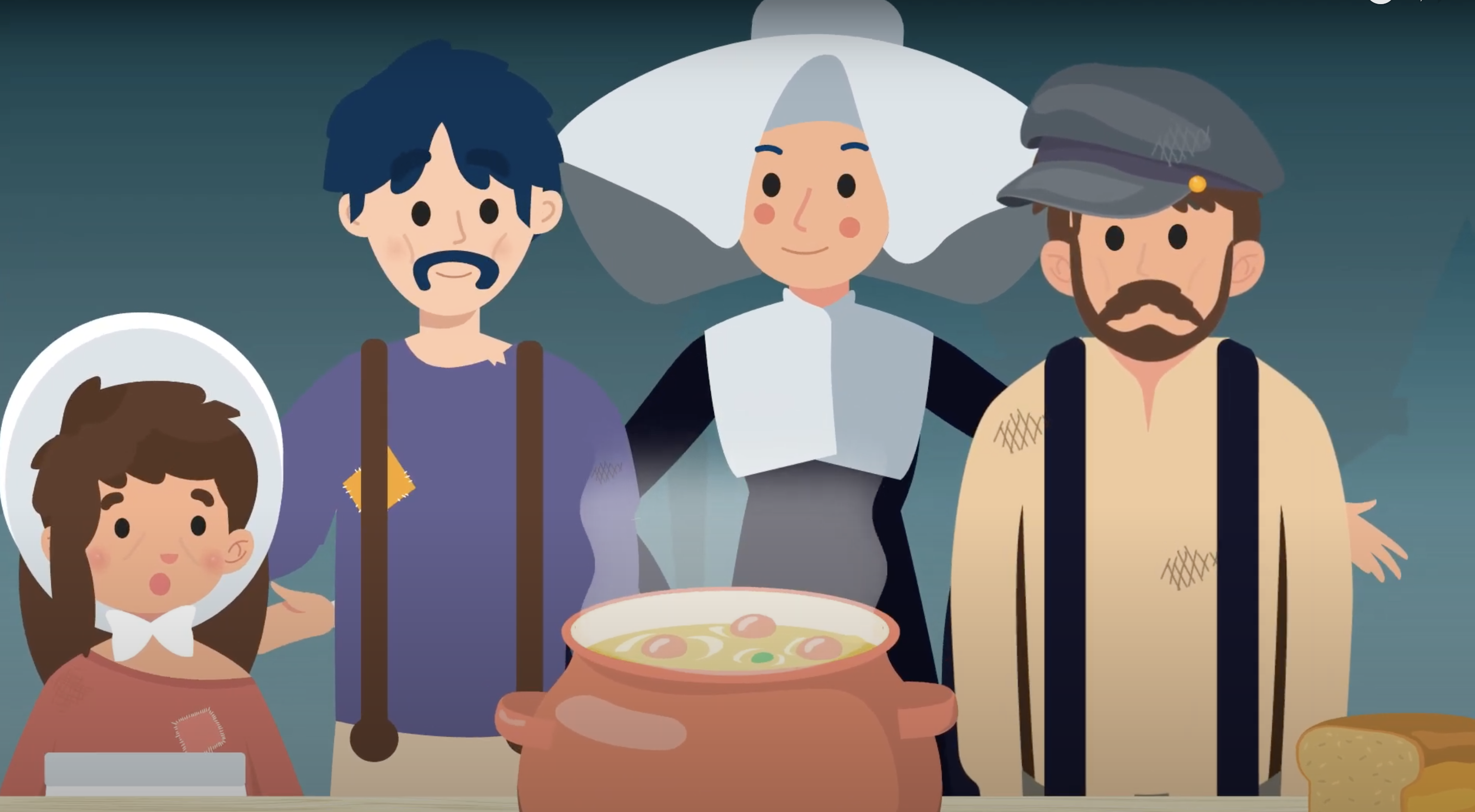 Our platform was named after the illustrious Rosalie Rendu, a Daughter of Charity of the XVIIth century and a great figure of the Vincentian Family known for her numerous actions in favour of the most disadvantaged. Discover its history
1848: a new riot broke out in Paris, pitting power against a working class unleashed by misery and hatred. Suddenly, an officer of the Garde Mobile rushes into the small courtyard of the house of the Daughters of Charity, near rue Mouffetard. He is pursued by furious rioters. A little sister then interposed herself between the combatants, shouting in a firm voice: "Here, we don't kill!". - "But outside, yes! Let's take him away". The sister then threw herself on her knees: "In the name of all that I have done for you, for your wives and children, I ask you for this man's life". Slowly and in an almost religious silence, the rifles are lowered, some men cry, all withdraw... The officer is saved! "Who are you, sister?" he asks, grateful and moved. "Nothing, sir, just a simple Daughter of Charity".
This "simple Daughter of Charity" was born in 1786, near Gex, in the Jura. His parents, the Rendu, enjoy a certain ease and esteem throughout the country. Jeanne-Marie is their first child and will be followed by three little sisters. During the Revolution, the family home was a safe refuge for priests faithful to the Church. The Bishop of Annecy himself will find asylum there. Jeanne-Marie, at first intrigued by this servant surrounded by so much respect, discovers one night that he is celebrating mass! This was an opportunity for the mother to explain to her daughter, despite her young age, the sad situation in France and the reasons for their commitment to the faithful clergy. It is therefore in an atmosphere of solid faith and trust in God in danger that Jeanne-Marie will grow up, serious and generous. She will make her first communion one night, in the cellar of her house, by candlelight.
In 1796, the family was hit hard by the death of the father and then of the youngest sister. Madame Rendu could do with the support of her eldest daughter but, concerned about her education, she sent her to the boarding school of the Ursuline Sisters of Gex. It was there that Jeanne-Marie discovered the existence of the Daughters of Charity during her walks through the city. Immediately, she is convinced and has only one desire left: to become like them! Her generous mother does not set up any barriers. First of all, she allowed her, despite her young age, to spend several weeks with the Daughters of Charity of Gex, in order to discern God's will. Then, having questioned the parish priest of Gex about the appropriateness of such a decision, she agreed to let her daughter enter the postulate, even though she was only fifteen and a half years old!
Jeanne-Marie therefore went to Paris, where she was welcomed at the mother house of the Daughters of Charity; she became Sister Rosalie.
Arriving at the age of 16, she was sent a few months later as a postulant to the house of the Daughters of Charity in the Mouffetard district. She received her formation there while dedicating her time to the service of the poor. Sister Rosalie remained there until her death 54 years later! A fine example of fidelity to the service of the poorest, lived with an inner drive that will only grow over the years and the difficulties overcome.
Every day and in all weathers, Sister Rosalie wanders the streets and alleys of the district, her rosary in one hand, her basket in the other, to meet those, numerous in this most miserable district of the capital, who expect help and comfort from her. Untiringly and with great kindness, she heals, nourishes, visits, consoles, soothes... Already, she discovers the validity of these words that she likes to repeat so much:
« A Daughter of Charity is like a milestone on which all those who are tired have the right to lay down their burden »
She also learns to turn the street into a monastery where she never stops talking to God.
« Never have I done so well as in the street, » she says.
In 1815, Sister Rosalie was appointed superior of the community. Her qualities of dedication and organisation are then fully revealed. Gradually, a whole network of charitable works is built around the sisters' house: a medical centre, a pharmacy, a childcare centre, an orphanage, a school, an oratory, a home for the elderly without resources... The more she lives in poverty, the less she can get used to it.
« Something that takes away my appetite - she admits - is the idea that so many families are short of bread. »
There is no shortage of hardships in this poor neighbourhood: The lack of hygiene is conducive to epidemics, particularly cholera, which claims many victims. The risks taken by the sisters in these circumstances affect the inhabitants. Sister Rosalie does not hesitate to pick up contaminated bodies in the street herself! So much dedication and kindness contribute to its reputation. Donations are pouring in for these works... and good will too. Many students arrive from the Latin Quarter to lend a hand. This is how Sister Rosalie will initiate the future Blessed Frederic Ozanam to charitable visits to the most destitute, in particular by giving him a lot of advice on the Christian way of considering and helping the destitute.
Sister Rosalie is also committed to educate her daughters. She wants them to experience the joy of giving themselves for others. One of them will tell us: "if, following a process, we brought back a good answer, she would send it to the interested families to make us enjoy their happiness and encourage us".
Following in the footsteps of Saint Vincent de Paul, she wants the poor to be served with great respect: "They are our lords and masters! Did you think of that, Sister, when you dispatched this poor man so rudely? ».
With sensitivity, she knows how to appeal to the conscience of those whom the Lord has entrusted to her to help them to be good consecrated women. Her ordinary formula was this: "Our Lord asked this of you... Did you not understand it?"
On February 7, 1856, after a short illness that took the better part of her worn-out body, Sister Rosalie gave her soul back to God. The emotion was considerable among rich and poor alike, in Paris as well as in the provinces. His funeral is a triumph and the press of all stripes pays tribute to him.
Sister Rosalie Rendu was beatified by Saint John Paul II in 2003.
« At a time troubled by social conflicts, Rosalie Rendu joyfully made herself the servant of the poorest, in order to restore the dignity of each person through material aid, education and the teaching of the Christian mystery, encouraging Frédéric Ozanam to put himself at the service of the poor. Her charity was inventive. Where did she get the strength to achieve so much? It was in her intense life of prayer and in her unceasing prayer of the rosary, which never left her. Her secret was simple: as a true daughter of Vincent de Paul, like another nun of her time, Saint Catherine Labouré, saw in every man the face of Christ. Let us give thanks for the testimony of charity that the Vincentian family never ceases to give to the world »
« The poor will tell you insults. The coarser they are, the more dignified you have to be. Remember that these rags hide Our Lord from you »
Prov. 31, 20-26 She opened her hand to misery, and offered it to the Poor. In his mouth there was only a word of kindness.

« O God, who has given to Blessed Rosalie, a virgin, your Spirit of Love, so that she may be of help to those who are in distress and abandonment. Following her example, give us also the joy of discovering Christ in the Poor and of serving Him with untiring charity. »